Florence Family Friendly Events & Activities
Upcoming Kid-Friendly Events
Alert! Free meals to students and community will be provided at over a dozen school locations and 2 dozen community locations during coronavirus closures. They will be providing free breakfast, lunch and dinner Monday - Friday . See details on free meal locations.
(Note: Some events may cancel last minute due to precautions against the Coronavirus Covid-19. Please check with the event's and business' websites beforehand.)
April 11, 2020 (Sat) - Community Egg Drop, Special Needs Eggs Hunt and Spring Fest at Darlington Middle School from 10AM - 4PM. The Family Mission Center and the Darlington Middle School will be hosting our Third Annual Helicopter Community Easter Egg Drop and Spring Fest, bring your Easter baskets and come enjoy a day full of FREE family fun. Over 50,000 FILLED plastic eggs, inflatbles, petting zoo, crafts, face painting, photo opportunities, special visits from the Easter Bunny, a drama filled Easter Story along with a special prize tent with Live entertainment on center stage. Parking and Event Activities are free, vendors and food trucks will be available.
The grounds will be open from 10:00-4:00 for your family to enjoy a fun filled day of activities.

Hunts /Drops are separated into different age groups: Tickets are Free but limited, reserve your tickets online.

10:00 AM Special Needs Egg Hunt (for special needs children of all ages, Parents/ Guardians may assist)

12:00 PM Ages Up to 2 Egg Hunt (Parents May Assist)

12:45 PM Ages 2-3 Egg Hunt (1 Parent May Assist, child must be able to pick up the eggs independently)

1:30 PM Ages 4-5 Egg Hunt ( Volunteers will be available to assist child if needed)

3:00 PM Ages 6-12 Helicopter Egg Drop
(We are asking that parents refrain from this hunt, please watch your child from the side lines and allow the children to have a safe fun filled time)
If your child requires special assistance during the hunt please feel free to join the 10:00 Special Needs Egg Hunt

This is a FREE family event, hosted by The Family Mission Center and Darlington Middle School, sponsored by several local businesses.
A special thank you to Dominion Church and the Darlington County School District for their on-going support for this event.

Egg Hunt/Drop times are subject to changed depending upon the weather. Address: 150 Pinedale Dr., Darlington, SC 29532
April 11, 2020 (Sat) - Eggstravaganza Family Event at Moore Farms Botanical Garden in Lake City. Free. 10AM - 1PM. (<<<Event is now CANCELED by organizer due to ongoing concerns with potential exposure to Covid-19)
April 18, 2020 (Sat) - Art International Festival at Francis Marion University from 10AM - 5PM. A family-friendly celebration of arts, food, culture and entertainment with activities for everyone. Free admission and open to the public. Food and craft items available for purchase. Address: 4822 E Palmetto St., Florence, SC 29506
May 2, 2020 (Sat) - Strawberry Festival at McLeod Farms in McBee from 10AM - 4PM. Tickets are $4 for ages 3 years old and up with live music, crafts, inflatables and more. Address: 29247 Highway 151, McBee, SC 29101
June 16 -21, 2020 - Pee Dee Regional Fair at Florence Center. The Pee Dee Regional Fair offers 6 fun-filled days of rides, games, foods, attractions and entertainment to South Carolina! Have fun from day one at the Florence Fair! The outdoor celebration offers some of the greatest fair rides in the nation, animal attractions, world-class entertainers, music and so much more! Address: 3300 W Radio Dr., Florence, SC 29501
MORE STORYTIMES (STORYTIMES ARE CURRENTLY CANCELED)
Weekly Story times at Barnes and Noble - They take place every Saturday Morning at 11AM year round in the Children's area.
Weekly Story time at the Florence County Library (Drs. Bruce & Lee Foundation Library) happens throughout the week by age. Look to the information on the right to see the schedule for your kid's age. If you are using a mobile device, click here to find more info on storytimes.
NEARBY EVENTS
See suggested day trips from Florence that are between 1 - 2.5 hours drive!
Playgrounds & Parks for Kids
Timrod Park
Timrod Park is one of the oldest parks in Florence and it is FlorenceMom.com's favorite. They don't have soft cushions like the bottom of the playground of Ebenezer Park, but it has everything a traditional park has and more! With two side-by-side playground structures, small bridges, a lot of shady trees, lots of squirrels and birds, picnic areas and benches, it's a great place for picknicking. Address of Timrod Park: 400 Timrod Park Drive, Florence, SC 29501
Ebenezer Park & Connected Rail Trail for Hiking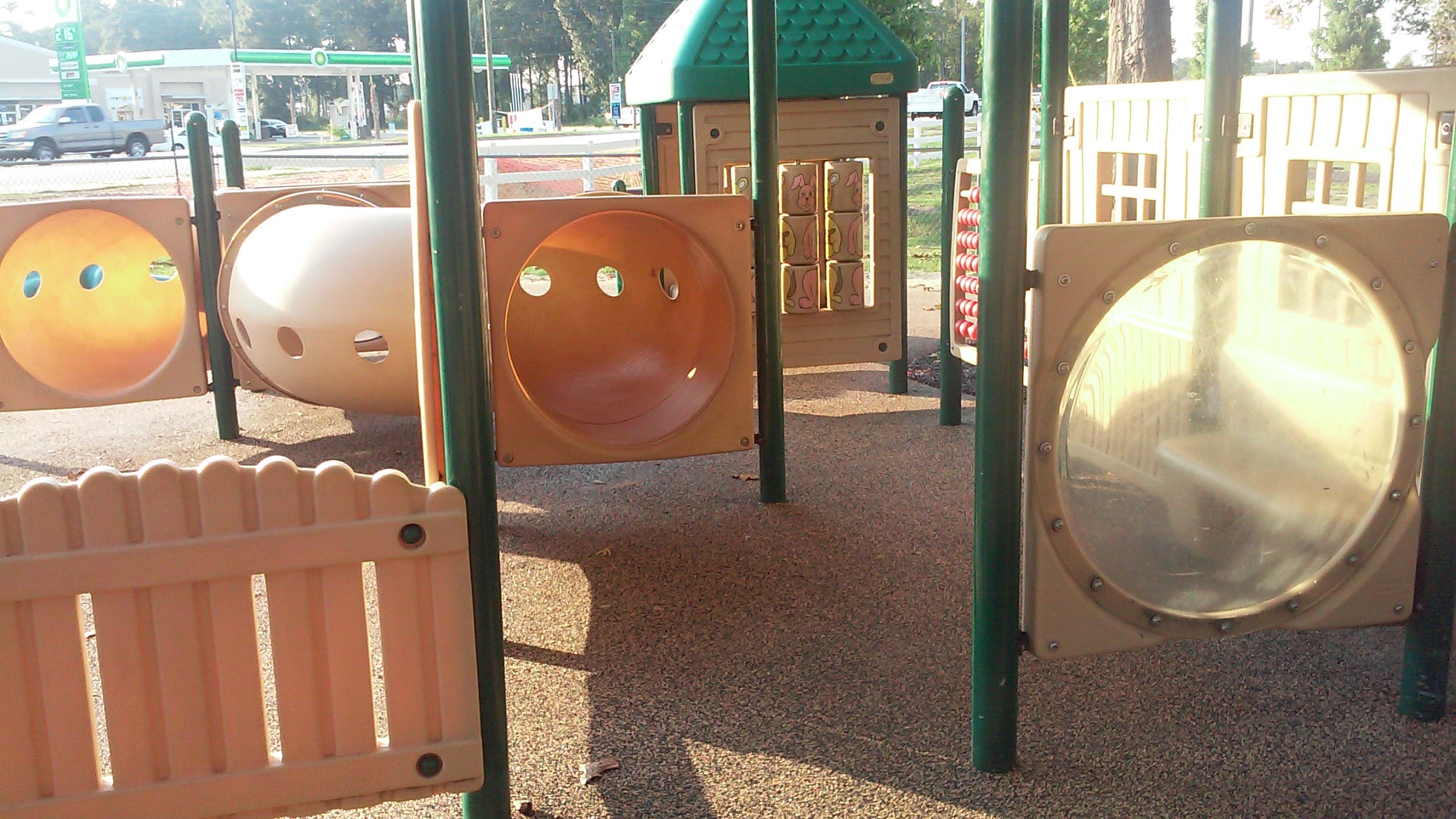 Located in West Florence, this public park has modern and sturdy playground structures for babies and bigger kids. They also have benches and a grill for picnics and parties. You can also find the Florence Rail Trail near Ebenezer Park!
Florence Rail Trail is a hiking/biking trail and is dog-friendly. It's 2 miles long; making it 4 miles long with the return trip. Make sure you have some bug-repellent spray during the warm seasons and sunscreen! Walk across the street from Ebenezer Park, past the church and continue along the road where the fire station is. You'll see the entrance to the Rail Trail right behind it.
There is also another entrance point to a shorter nature hiking trail between Hobby Lobby and Lowe's Parking lot in West Florence. You can park in the Lowe's parking lot and take the steps down. There is a trail map here that will help you figure out the other entrance points of other trails around Florence as well.
Lynches River County Park, Environmental Discovery Center & Splash Pad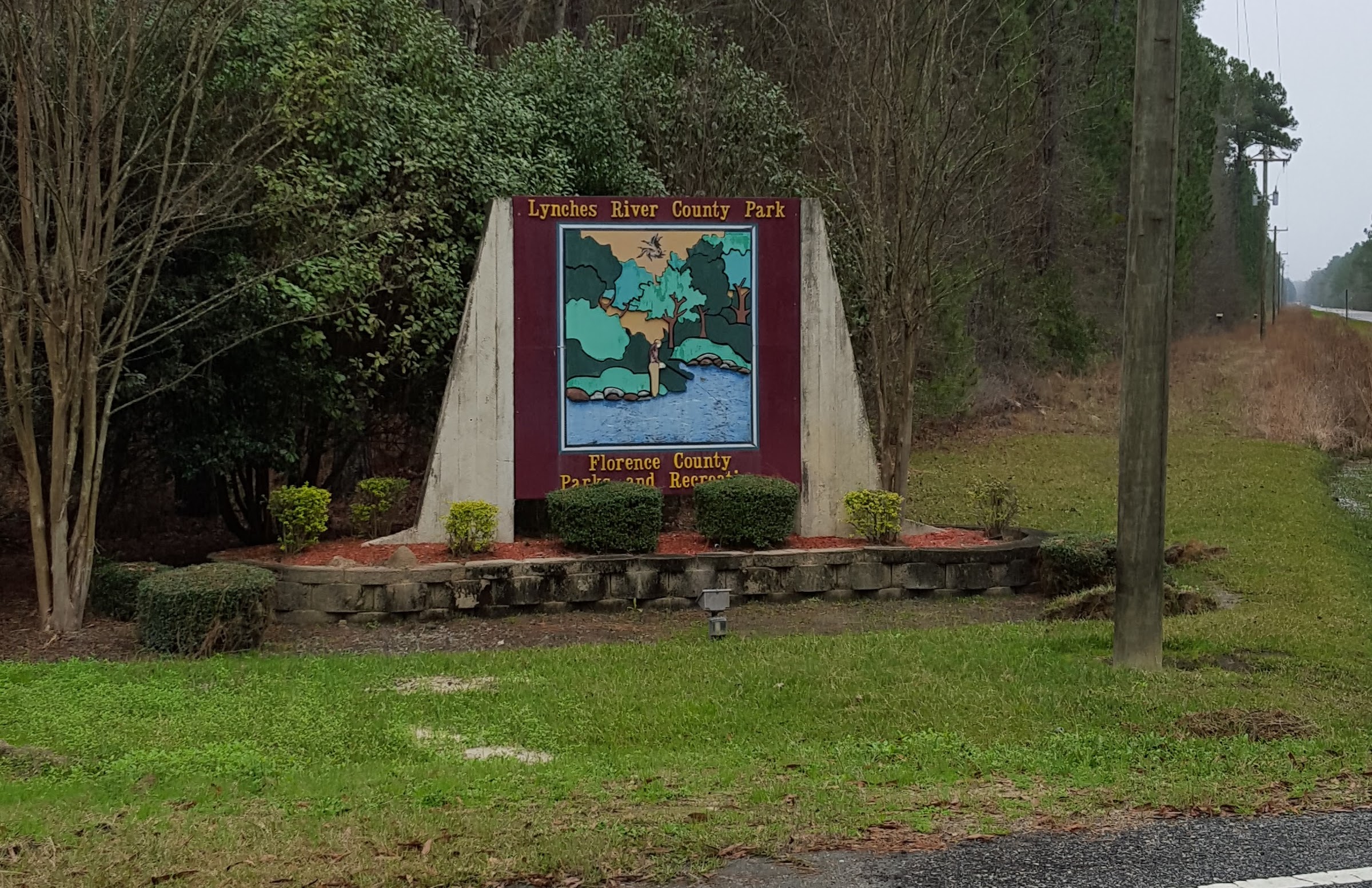 (Note: Lynches River County Park and Environmental Discovery Center are temporarily closed.) Lynches River County Park has a large playground for kids to play that is open year round. They have walking trails as well. During ideal weather, you can also rent canoes and kayaks to enjoy some water fun.
Splash Pad at Lynches River
During the summer time (starting end of May), Lynches River County Park opens a Splash Pad. Cost is only $3 for children under 17 years old. Adults are free at the Splash Pad with paid child admission. Everyone must wear swimwear to get in the water area, even if you're just chasing your toddler for a minute. Gym clothes do not count and they will not let you in the splash area if you think you can get away with it. Wear proper swimwear. I learned this the hard way. Hours during the summer are: Tuesday - Saturday 11:00 A.M. - 6:00 P.M., Sunday 1:00 P.M. – 6:00 P.M.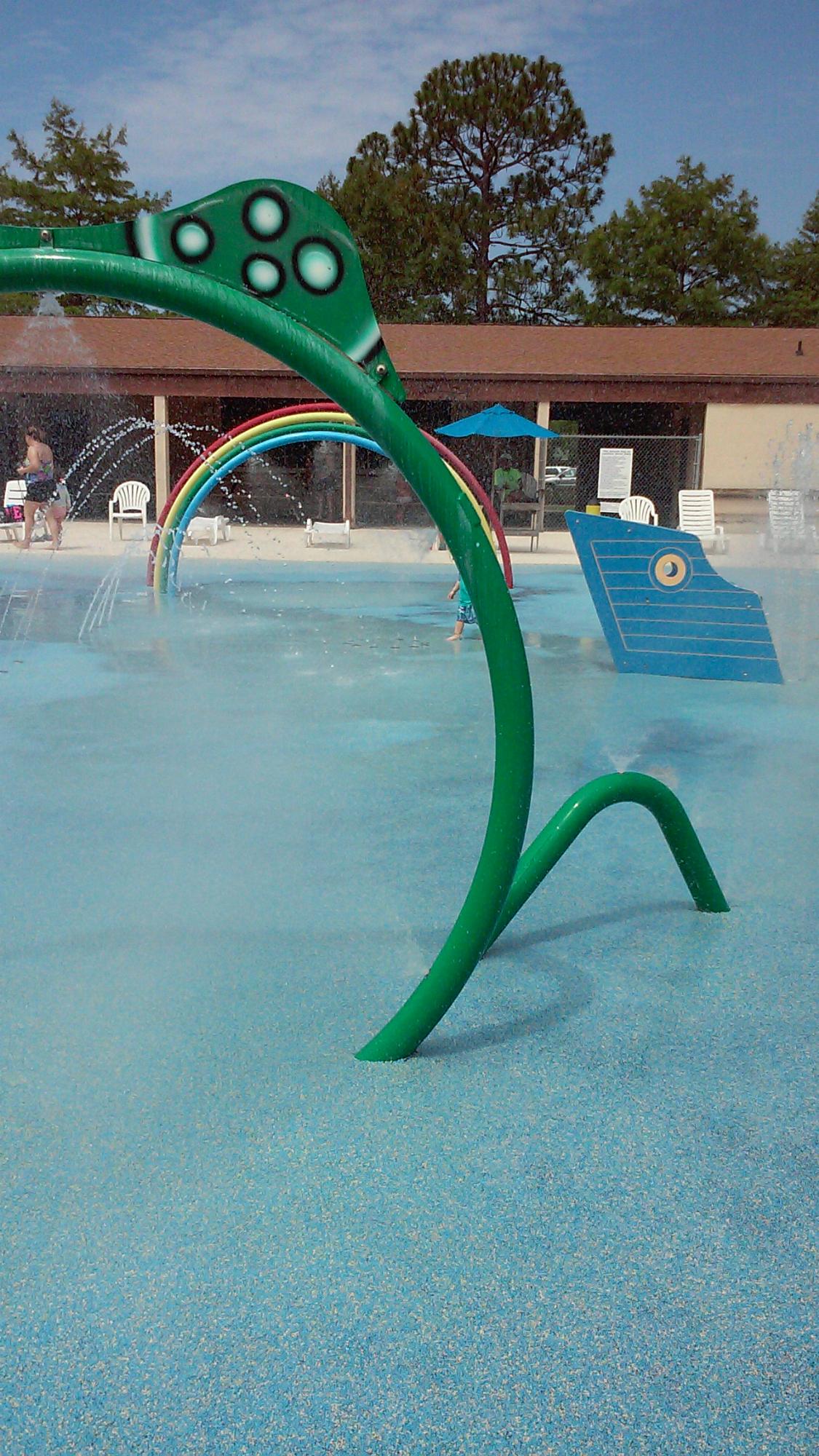 (Splash Pad at the Lynches River County Park is only open seasonally during the summer time.)
I highly recommend going to the Environmental Discovery Center at Lynches River County Park when they are open. Their backyard canopy trail is amazingly beautiful for the family to walk on. It is all free and usually open year round at Lynches River County Park!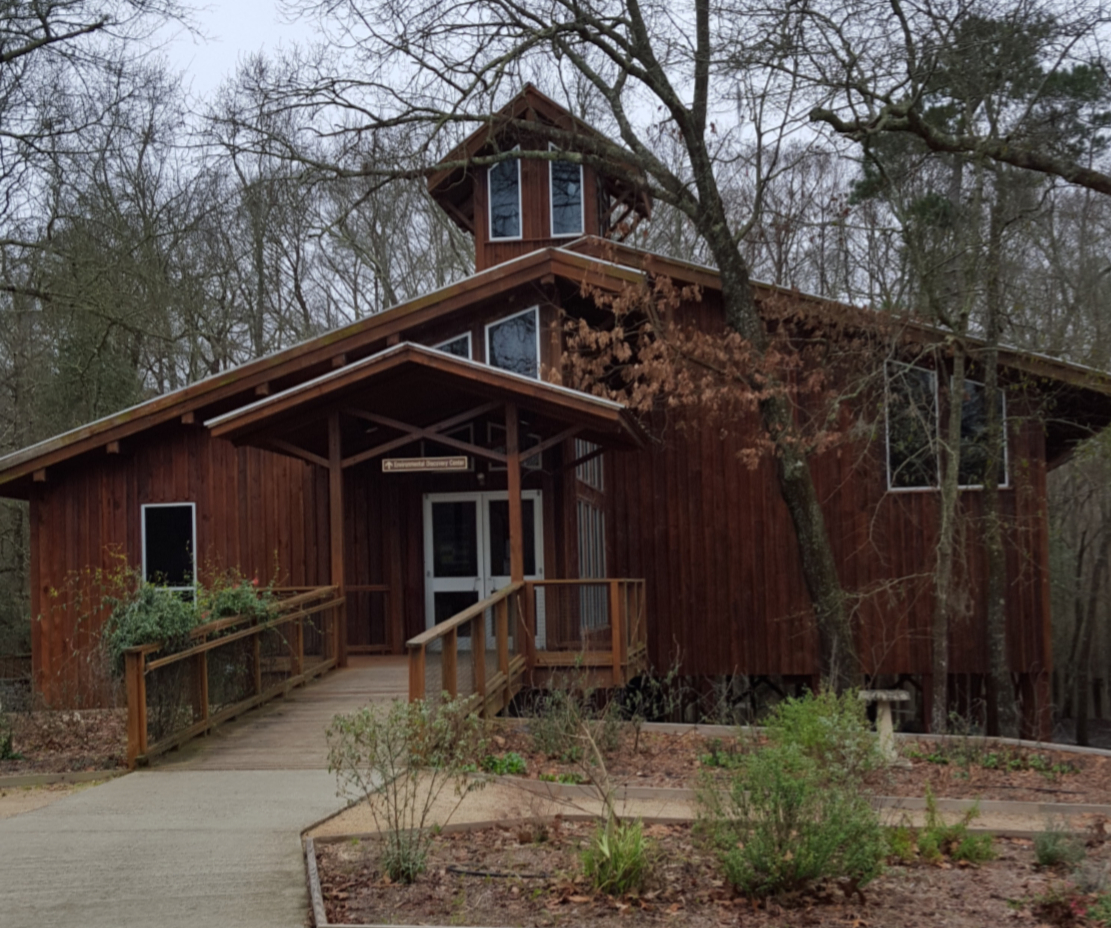 (Environmental Discovery Center)
The Environmental Discovery Center is a large cabin. You and your kids will absolutely love this educational center! See beautiful pictures of the canopy trail from FlorenceMom.com's past visit.They have live reptiles like snakes, turtles and alligators that the kids can see up close! They're open every day except for Mondays. Their usual hours are: Tuesday - Saturday: 9am - 5pm and Sunday: 1pm - 5pm. Environmental Discovery Center Address is: 5094 County Park Rd, Coward, SC 29530.
David H McLeod Park
Address: 920 State Rd S-21-508, Florence, SC 29501
This is my favorite park to go to when we still had a dog. It has a pond in the center where you can sit by and watch the fishes swim. They also have a skateboard park, basketball courts, a baseball field and a lot of benches. Their fenced dog park there is large and located right by the pond. Remember to bring some bug spray during the summer weather as there are a lot of mosquitos by the pond.
Freedom Florence Recreational Complex
Address: 1515 Freedom Boulevard, Florence, SC 29505
The Freedom Florence Recreational Complex hosts sports tournaments and also has a coin-operated batting cage, a gymnastics facility, public picnic shelter with outdoor grills, a pond for fishing and trails for walking, jogging and biking. For athletic kids, this is the ultimate dream park.
Other FlorenceMom.com Favorite Places
Florence Flea Market
Address: 4001 E Palmetto St., Florence, SC 29506
Located in East Florence, this Flea Market is one of the biggest ones in South Carolina. Admission is always free. They sell a lot of used items and cheap finds. They also have a couple of dine-in places as well. I recommend the taco shop (taqueria). It's really authentic and a true gem! See food pictures of restaurants that FlorenceMom.com has dined at. Located outdoors, the Florence Flea Market is a great place to walk around on a clear day. With the smell of hot peanuts in the air, both adults and kids will get excited walking around and finding a diamond in the rough.
Pee Dee State Farmers Market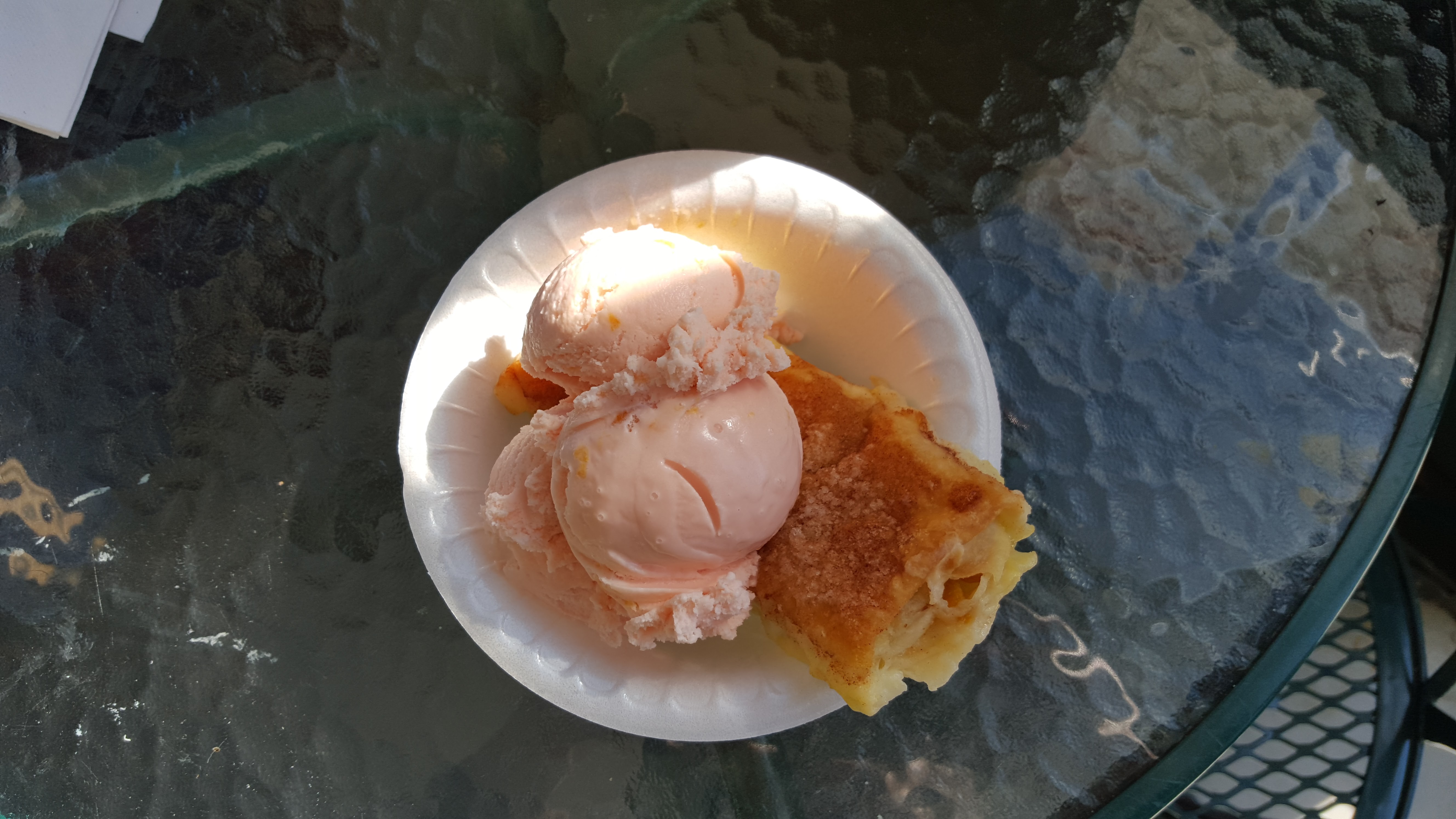 (Dessert from McLeod's Store at the Pee Dee State Farmers Market in Florence)
Address: 2513 W Lucas St., Florence, SC 29501
Open year round, you'll find fresh produce, trees and plants for your garden and seasonal crafts to decorate the home. Entrance to Pee Dee State Farmers Market is always free. They are usually open from Monday through Saturday. Their hours change seasonally so check with their website to see their current hours. They also have a McLeod Farms storefront here seasonally, offering fresh farmed goods and delicious desserts. McLeod Farms' main headquarters is located in McBee, SC near Hartsville. See pictures of McLeod Farms in McBee, SC. I really recommend coming to Pee Dee Sate Farmers Market on the weekends instead of the weekdays because more stands are open.
Fitness for the Family With a Kid's play area and nursery
McLeod Health & Fitness Center
Address: 2437 Willwood Dr, Florence, SC 29501
Located in West Florence, the McLeod Health & Fitness Center is a modern facility with a nursery and children's play area called the MACK where you can drop off your kids in this center while you work out. With the maximum childcare allotment of 2 hours per day at the MACK, you can take a fitness class and even have time to shower there before you pick up your children. They offer discounts to certain companies so check with them before you fill out the application forms. They also have a kid's camp during the summer time which is a great option for summer child care.
YMCA Florence
Address: 1700 Rutherford Dr, Florence, SC 29505
(Note: Starting on March 25, 2020, YMCA Florence will temporarily close with no planned re-opening date) Located in South Florence, the YMCA is well-known for being a family-oriented fitness center for many decades. They also have a daycare program, after-school program and camps during the summer for the kids. Like the McLeod Health & Fitness Center, the YMCA also has a nursery and kid's play area where you can drop them off while you work out. What notably sets YMCA Florence apart from McLeod Health & Fitness Center is that they have an outdoor pool with a waterslide that's open during the warmer months.
Fitness World
3 locations in Florence (with one being ladies' only!), 1 in Hartsville, 1 in Darlington & growing
At all the Fitness Worlds, the gyms only have child care available during the times when there are fitness classes at each location. However, all of the Fitness World's facilities are open 24/7! That is a great benefit for having a membership with them. Another added bonus is one membership gets you into all of the locations! They even have a ladies only location on Second Loop in Florence! Considerably cheaper than McLeod Health & Fitness Center and YMCA, it's perfect for those who work during odd hours and are serious about working out! I only paid $1 per child when I used their childcare facility for a fitness class I was taking with my kids in tow.
Movie Theaters & Cinemas
Regal Cinemas Swamp Fox 14
Address: 3400 Radio Road, Florence, SC 29501
Located in West Florence and near the Magnolia Mall and hotels, this movie theater has a lot of movies showing every day. There is always ample parking. They are located near a lot of restaurants as well, which makes it very convenient for date nights.
Julia's Cinemas
Address: 1110 S. Irby St., Florence, SC 29501
Julia's Cinemas is a local movie theater cinema and is significantly cheaper than Regal Cinemas Swamp Fox. Parking can get full really fast on a busy day so come early. Julia's Cinemas is located in South Florence.
Get email updates on monthly family-friendly events and other related info from FlorenceMom.com!
Find
Toys Action Figures
like DC Comics, Marvel and
other action figures
. Many special collectibles can be found on
Ebay
.
Story Times for Kids
Barnes & Noble Florence Story times (Free)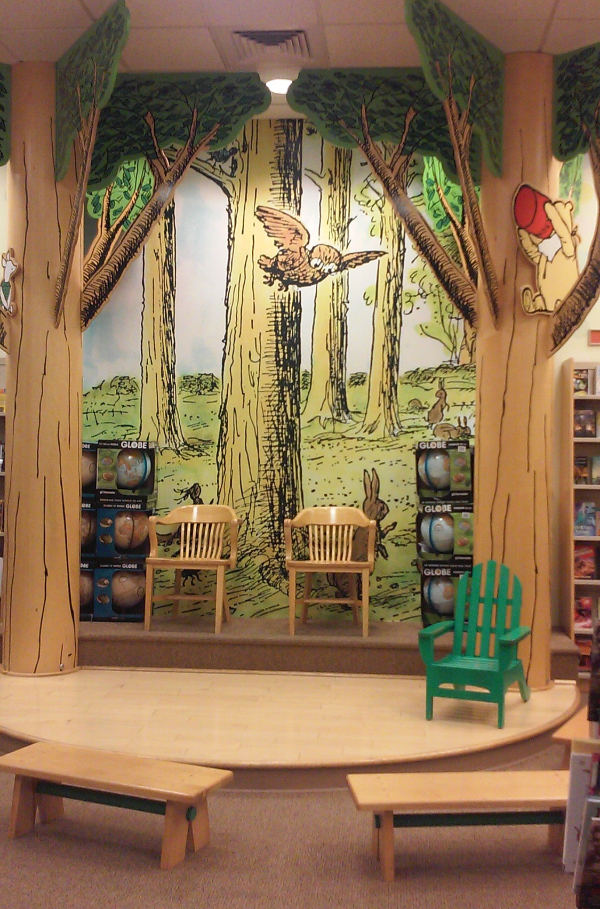 (Note: All story times are canceled due to precautions against the coronavirus)
Every Saturday, Barnes & Noble in Florence has free story time in their impressive kid's section at 11AM. The Barnes & Noble Book Store is located inside of Magnolia Mall. They also have a train set on display that kids can play with while waiting for story time to begin. Address: 2701 David Mcleod Blvd Unit # 1200, Florence, SC 29501.
Florence Library Story Times (Free)
(Note: All libraries in Florence County are now closed for all of March 2020 due to precautions against Coronavirus Covid-19)
During the school season, the Florence County public library (also known as Dr. Bruce & Lee Foundation Library) offers free story time sessions during the weekdays to the public. This library is very up-to-date with their selection and family-friendly with the children's area being on the bottom floor. They also host free children's events throughout the year. Address of the library is 509 S Dargan St., Florence, SC 29506.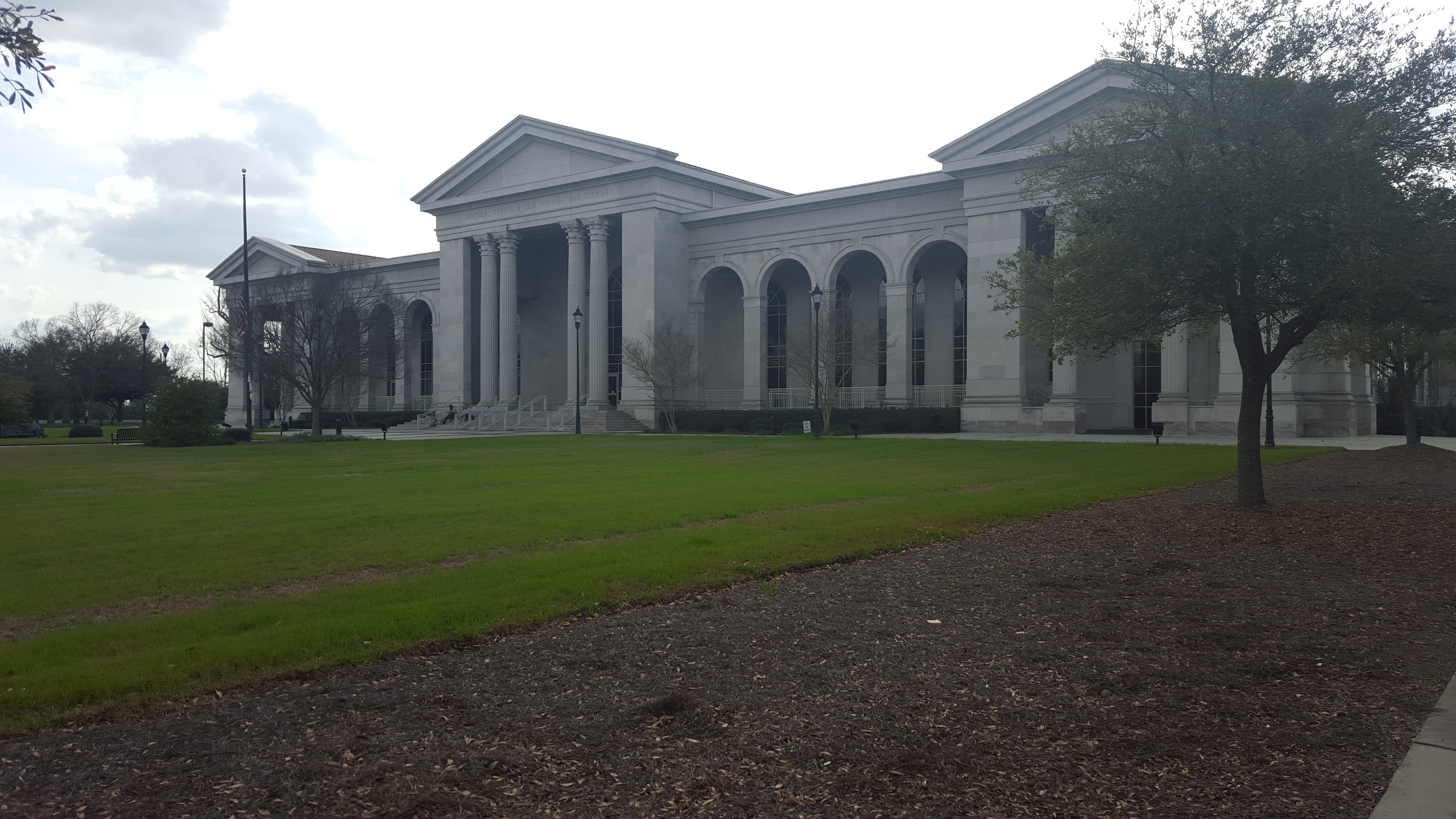 Story times at the Florence Library are grouped by age. See the times and appropriate age groups for your child below:
Toddler Storytime is every Tuesday during the school season from 9:30am-10:00am. (Toddler must be 2 years old.)
Preschool Storytime is every Tuesday during the school season from 10:30am-11:00am. (Preschooler must be 3, 4 or 5 years old.)
Bilingual Storytime is every Tuesday during the school season from 6:30pm-7:00pm . (Child must be between 2-5 years old.)
Tweens program is every Wednesday during the school season from 3:30pm-4:30pm.
Baby Storytime for non-walkers is every Thursday during the school season from 10am-10:15am. (For 0-23 months old. Adult must be present during the entire time.)
Baby Storytime for walkers is every Thursday during the school season from 11AM-11:15AM. (For 0-23 months old. Adult must be present during the entire time.
Also, the Library hosts Sunday Family Movies at 2:30 p.m every Sunday. Check with the library's website on what movie they are showing for a particular date. The movies are rated either G or PG. These movies are sponsored by Friends of Florence County Library and free to the public.
Florence Playgroup for Ages 0 - 3 Years Old
Interested in being a part of a group of moms and children, ages NEWBORN TO 3 that play together? There is a Parent and Child Playgroup for babies and toddlers ages 0 - 3 years old for families who are zoned under Florence School District 1 (FSD1). This is free! They come together once a week in a warm and homelike setting. They share insights about life with children through group discussions. This program includes free play and sometimes a song and/or story. There will also be a snack time before the group ends. In this way, teachers and parents work together to provide a model of what community means for young children. There are specific groups for different age children, held once weekly for an hour. Please email at susan.knight@fsd1.org or 843-758-6872 to sign up or for more information.
For other resources on mommy and me type programs, go to http://www.florencemom.com/florence-mom-blogs/new-and-current-resources-for-mommy-and-baby-in-florence-sc
Kid's Birthday Party Suggestions
With seasonal weather here in Florence, there are many options to plan a fun birthday party for the kids! Here are some of our suggestions below.
Birthday Party at Chuck E Cheese
Address: 2603 David H McLeod Blvd, Florence, SC 29501
(Note: Chuck E Cheese is closed for the remainder of March 2020 as a precaution against Coronavirus Covid-19) You can book a birthday party package for any day of the week! It doesn't have to be on the weekends here at Chuck E Cheese! Located at Magnolia Mall, this is a great place for the kids to play and have a party. For their birthday packages, you pay a rate per kid and that rate includes 2 slices of pizza, play points, unlimited drink refills and organized 2 hours of fun. I really think the best package is the star package, which is their standard birthday package rate per child. You can only play so much during those 2 hours and a lot of time is spent eating, cutting the cake and Chuck E Cheese coming out to entertain the guests! These party packages are especially great because you get to be in the private party area that's close to the Chuck E Cheese animatronic. However, I've also seen smaller parties just sit in a regular booth without needing to book a party package. It can get pretty busy during the weekends so the regular booths can fill up quickly.
Birthday Party at Master J Kim's U.S. Tae Kwon Do Center
$89.99 Birthday Party Package (Limited Time Offer! Prices subject to change.)
You can host a 2 hour birthday party at Master J. Kim's U.S. Tae Kwon Do Center for $89.99! For up to 15 participating kids, the special birthday boy or girl and the guests get to enjoy fun games, bounce house and activity, pizza & drink, birthday cake, fun martial arts lesson and board breaking! This is all inclusive and hosted at Master J Kim's U.S. Tae Kwon Do center!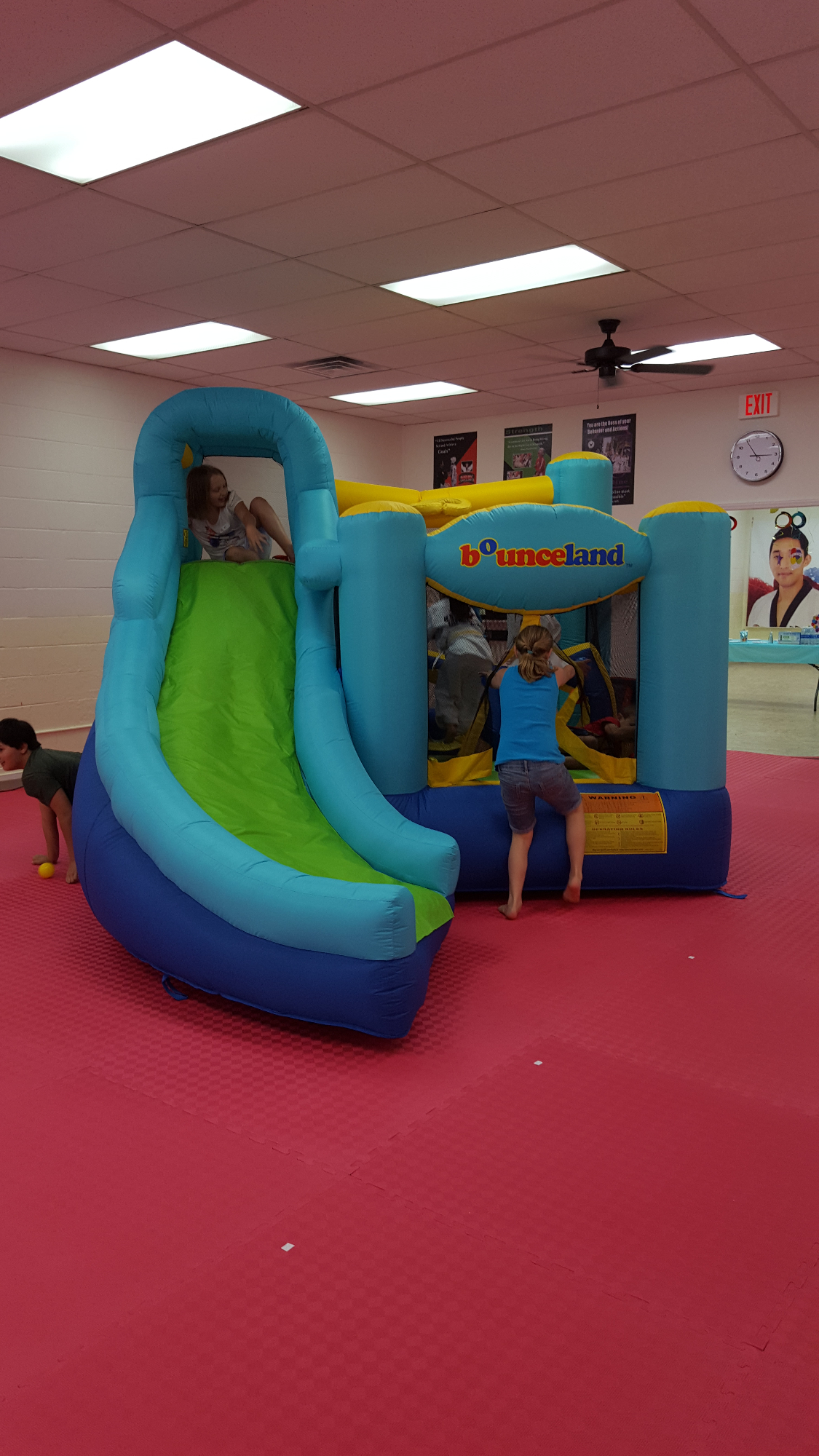 (2 Hour Party includes fun martial arts games and lessons, bounce house, pizza, drinks and cake and board breaking for 15 participating guests. All for only $89.99. Plan your next fun birthday for your kids here! It is stress-free for the parents and, interactive and fun for the kids.)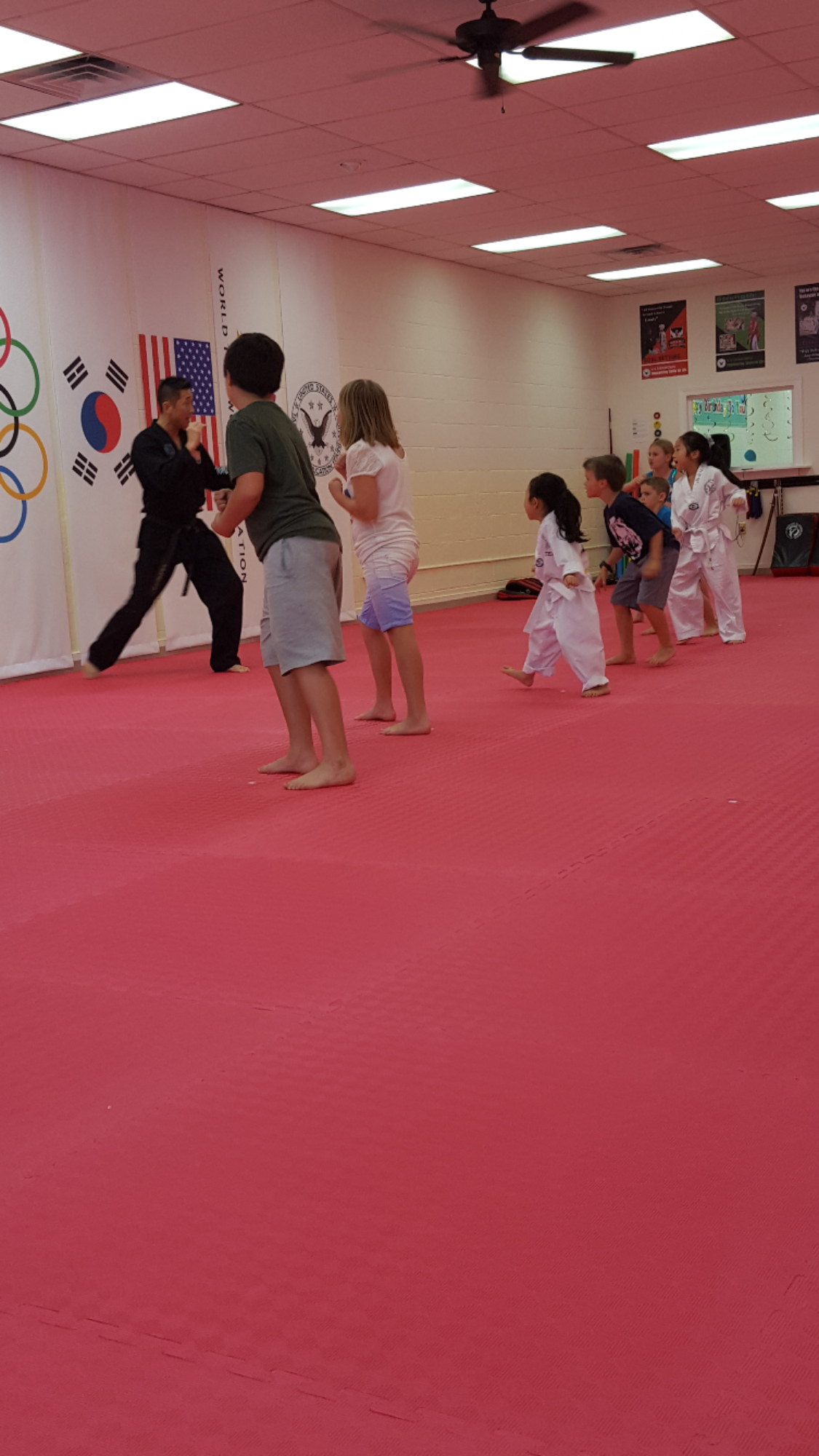 (Private party room included)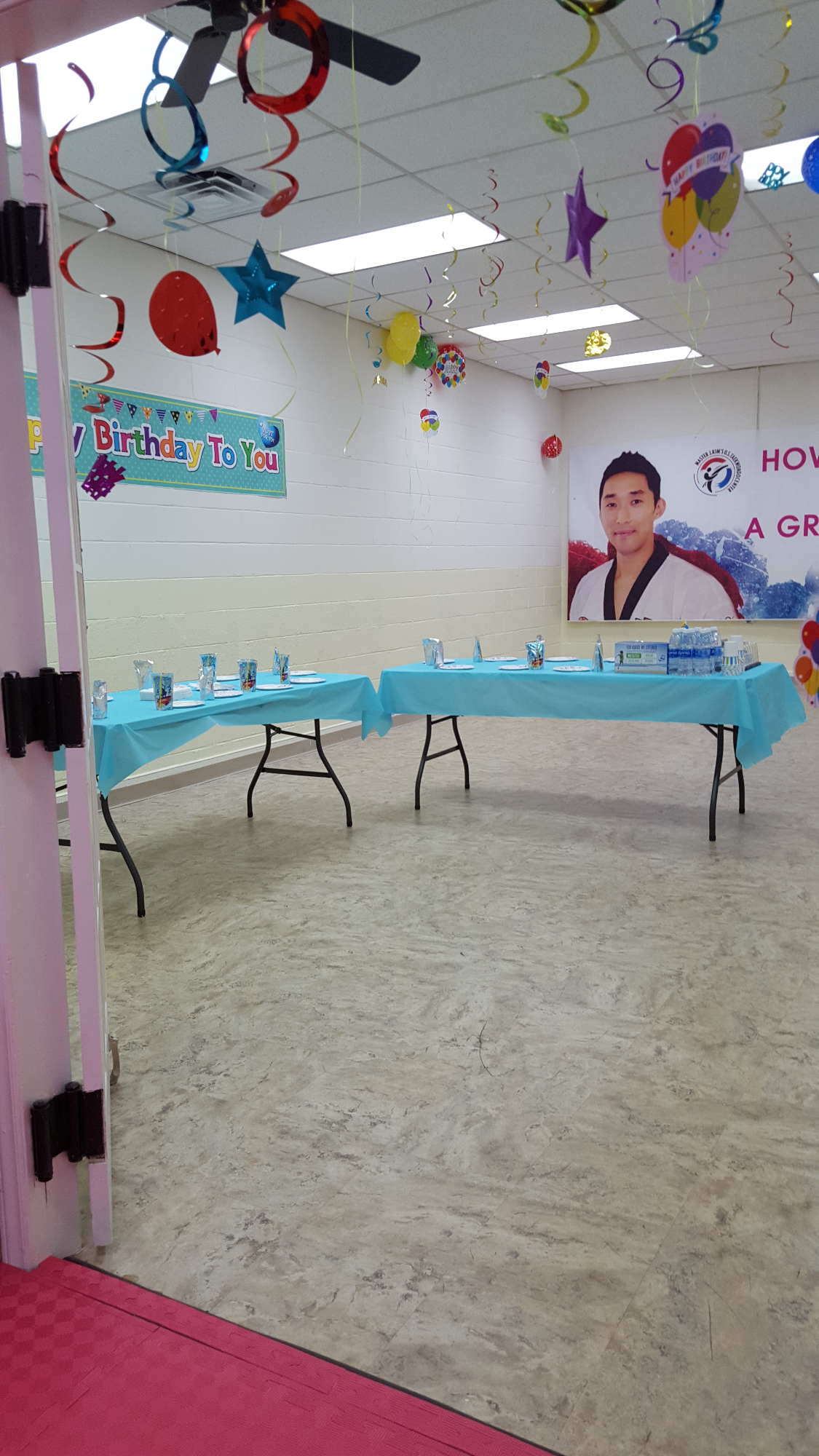 Located at 1657 W. Palmetto St., Florence, SC 29501, it is located in the same shopping center as Kimbrell's furniture. All activities of Master J. Kim's U.S. Tae Kwon Do Center take place indoors so rain or shine, the kids will have a very fun and interactive birthday party! Call 843-468-5113 for questions about scheduling your kid's next birthday party.
Birthday Party at Ebenezer Park
Address: 842 South Ebenezer Road, Florence, SC 29501 for GPS.
With benches and a playground nearby, this is a great place to have a picnic or birthday party. Their playground has separate areas for babies and bigger kids. They have bathrooms right by the playground and covered areas for eating. To make sure you'll get the large benches at Ebenezer Park or any public city park, you'll need to reserve it with the City of Florence. It is worth it for your peace of mind because I've heard of parties disputing over space on the benches for a birthday party and if you've already reserved it with the city then that space is guaranteed to be yours.
Birthday Party at the Splash Pad (Summer Only starting end of May) at River Lynches County Park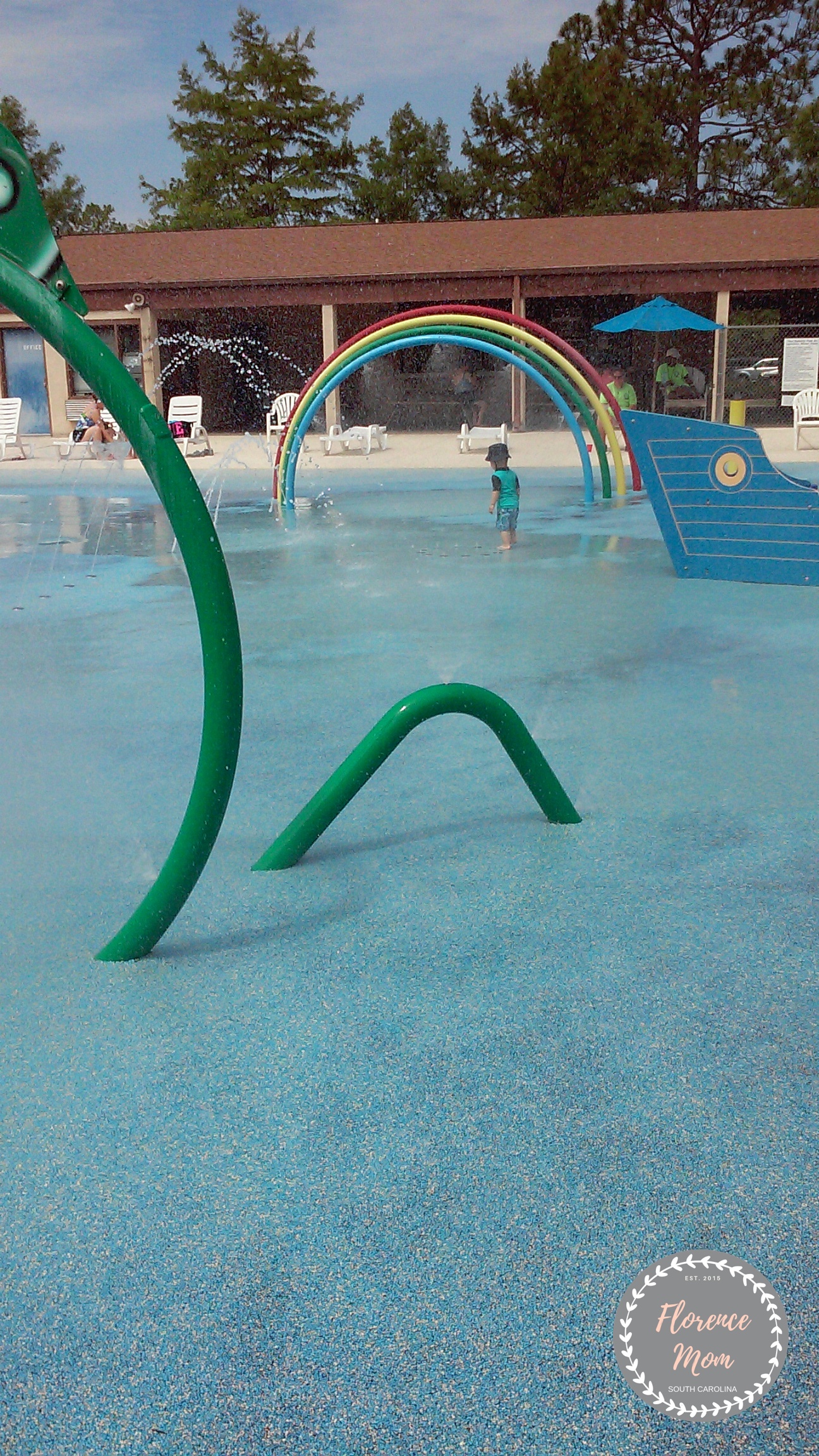 Address: 5094 County Park Rd Coward, SC 29530
It gets really hot during the summer time in Florence so this is a great place for the kids to cool down and celebrate a summer birthday. Located at Lynches River County Park, which is 30 mins from Florence city, it can feel isolating driving here to find the splash pad but don't worry, you'll see a parking lot when you get to the splash pad building and all the kids really enjoy the splash pad here.
Birthday Party at the MACK
Address: 2437 Willwood Dr, Florence, SC 29501

Members (and non-members) at the McLeod Health & Fitness Center can host kid's birthday parties at the MACK! Their party times are only available on the weekends. You can choose to have an indoor pool party here or rent out the MACK area for some organized fun play for your kid's birthday party.
Birthday Party at The Little Gym of Florence
Address: 1945 W Palmetto St Suite 115, Florence, SC 29501

Located at the Florence Mall shopping center, The Little Gym of Florence is a kid's gym for babies through 12 years old. They also have birthday party packages which includes 1.5 hours allotment dedicated to your party, organized fun play and a table area for cake cutting as well as paper goods like plates, forks, cups and napkins. See pictures and a full review by FlorenceMom.com on this link: http://www.florencemom.com/florence-mom-blogs/little-gym-in-florence-sc-promotes-early-physical-developmental-skills-for-babies-toddlers-preschoolers-and-grade-school-kids
Birthday Party at Skateland
125 N Beltline Dr #7413, Florence, SC 29501

You can host birthday parties at Skateland in Florence, South Carolina. It is located across from the Wal Mart shopping center on Beltline in West Florence. There are a few party packages you can pick from and they all include 2 hours allotment for a party table, pizza, all paper goods and drinks. You can reserve a birthday party package for a weekday or on the weekends.
Florence Downtown Fun
Starting in April, when the weather gets warmer, the community can enjoy some outdoor time in downtown for their block parties every Third Thursday, First Friday and Last Friday (Friday After Five). The businesses of downtown come together and host an evening night of fun with free entertainment. These events are always free to attend. Some residents would even bring their own lawn chairs to get a comfortable seat while watching the bands play. Not only family friendly, usually these events are also dog-friendly.
Many festivals and fairs are also hosted in downtown annually, such as the famous Pecan Festival in the Fall and Shamrock Festival in the Spring for St. Patrick's Day.
The downtown area is continually changing and growing. It's been exciting to see the wonderful changes with new businesses and more community events. See recommended family-friendly restaurants in downtown.
FLORENCE COUNTY MUSEUM
The Florence County Museum is located in downtown inside a beautiful stand-alone building. This museum is always free to the public. It's a great place for locals and tourists to learn more about Florence County's history. They also host family-friendly events throughout the year. These events will be posted under the 'Upcoming Events' list at the top of this page as they draw nearer. Florence County Museum's hours of operations change seasonally so check their website to see the current season's hours. Florence County Museum Address: 111 W. Cheves, Florence, SC 29501.
Florence Little Theatre for Kids
Address; 417 S Dargan St, Florence, SC 29506
Throughout the year, Florence Little Theatre (located next to Florence Library) has many kid's play productions that is fun for all the kids to see. Don't be surprised if there is a field trip to this theatre from your child's school. They host seasonally special events for the little ones too.